Dunderhonung för socialt arbete?
En studie av MI:s användbarhet inom försörjningsstöd
Abstract
MI, motivational interviewing, is a counselling method for increasing a person's motivation for behaviour change that is prevalent in social work. MI emphasizes building trusting social worker-client relationships and is presented as concrete and simple to follow. The benefit of MI is limited by actual opportunities for change through poverty, the labour market and health. The article aims to critically examine the usefulness of MI in connection with the handling of social assistance. It is based on a study of the use of an assessment instrument and of individual action plans (contracts) in a municipality where MI is a central tool. The study is based on analyses of documents, individual interviews and group interviews with staff as well as observations of meetings and training.The results show that MI has been integrated into a comprehensive implementation of other elements to standardize initiatives within income support. The client's obligations are emphasized through a strong individual focus, although extensive efforts may be needed from surrounding actors. The action plans have inherent problems in terms of clarity and legal certainty. The authors argue that it is paradoxical to use a method based on alliances and collaboration in connection with conditional decisions. The use of MI becomes a commitment that lacks reciprocity and whose activation of self-technologies can be questioned.
Nedladdningar
Nedladdningsdata är inte tillgängliga än.
Referenser
Abramovitz, M., & Zelnick, J. (2015) Privatization in the Human Services: Implications for Direct Practice. Clinical Social Work Journal, 43(3), 283-293.

Angelin, A. (2009) Den dubbla vanmaktens logik. En studie om långvarig arbetslöshet och socialbidragstagande bland unga vuxna. Diss. Lund: Lunds universitet.

Bailey, R. & Brake, M. (red.) (1977) Radikalt socialt arbete. En antologi. Stockholm: Rabén & Sjögren.

Beckman, M., Forsberg, L., Lindqvist, H., Diez, M., Eno Persson, J. & Ghaderi, A. (2017) The dissemination of motivational interviewing in Swedish county councils. Results of a randomized controlled trial. PLoS ONE, 12(7): 1–16.

Bentzen, T.Ø. (2018) Den magiske tillid og dens skyggesider. Den offentlige. dk. [doi:https://www.forskningsdatabasen.dk/en/catalog/2397396284].

Björk, A. (2014) Stabilizing a fluid intervention. The development of Motivational Interviewing, 1983–2013. Addiction research & theory, 22(4): 313–324.

Björk, A. (2016) Evidence, fidelity, and organisational rationales: multiple uses of Motivational Interviewing in a social services agency. Evidence & Policy: A Journal of Research, Debate and Practice, 12(1): 53–71.

Boyle, S., Vseteckova, J. & Higgins, M. (2019) Impact of Motivational Interviewing by social workers on service users. A systematic review. Research on Social Work Practice, 29(8): 863–875.

Cummings, S.M., Cooper, R.L. & Cassie, K.M. (2009) Motivational interviewing to affect behavioral change in older adults. Research on Social Work Practice, 19(2): 195–204.

Dahlstedt, M. (2009) Aktiveringens politik. Demokrati och medborgarskap för ett nytt millenium. Malmö: Liber.

Dahlstedt, M. & Lalander, P. (red.) (2018) Manifest. För ett socialt arbete i tiden. Lund: Studentlitteratur.

Dean, M. (2017) Governmentality. The Wiley?Blackwell Encyclopedia of Social Theory, 1–2.

Donaldson, S.I. (2007) Program theory-driven evaluation science. Strategies and applications. New York: Lawrence Erlbaum Associates.

Egelund, T. & Jakobsen, T.B. (red.) (2006) Behandling i socialt arbejde. Begreb og praksis. København: Hans Reitzels Forlag.

Energimyndigheten (2017) Motiverande samtal vid energitillsyn. Stockholm: Energimyndigheten.

Folkhälsoinstitutet (2009) Motiverande samtal i primärvården. Kartläggning av utbildningsinsatser och synpunkter. Stockholm: Folkhälsoinstitutet.

Forrester, D., Westlake, D. & Glynn, G. (2012) Parental resistance and social worker skills. Towards a theory of motivational social work. Child & Family Social Work, 17(2): 118–129.

Fraser, M.W. & Galinsky, M.J. (2010) Steps in intervention research. Designing and developing social programs. Research on Social Work Practice, 20(5): 459–466.

Furedi, F. (2004) Therapy culture. Cultivating vulnerability in an uncertain age. Brighton och Hove: Psychology Press.

Giddens, A. (1999) Modernitet och självidentitet. Självet och samhället i den senmoderna epoken. Göteborg: Daidalos.

Hampson, M.E., Hicks, R.E. & Watt, B.D. (2015) Exploring the effectiveness of motivational interviewing in re-engaging people diagnosed with severe psychiatric conditions in work, study, or community participation. American Journal of Psychiatric Rehabilitation, 18(3): 265–279.

Herz, M. (2016) Levande socialt arbete. Vardagsliv, sörjbarhet och sociala orättvisor. Malmö: Liber.

Herz, M. & Johansson, T. (2011) Critical social work. Considerations and suggestions. Critical Social Work, 12(1): 28– 45.

Hohman, M. (2015) Motivational interviewing in social work practice. New York: Guilford Press.

Holm Ivarsson, B., Ortiz, L. & Wirbing, P. (2010) MI – Motiverande samtal. Praktisk handbok för socialt arbete. Stockholm: Gothia.

Härnbro, S. (2019) Fabricating the motivated client. Problematising the market of social work in Sweden. Critical and Radical Social Work, 7(2): 189–202.

Irmgard Snertingdal, M. (2013) Brief alcohol interventions in Norwegian natal care. A neoliberal mode of governing and social consequences. Drugs and Alcohol Today, 13(1): 36–43.

Johansson, H. (2006) Individuell handlingsplan. I: V. Denvall & B. Vinnerljung (red.) Nytta och fördärv: Socialt arbete i kritisk belysning, 148–169. Stockholm: Natur & Kultur.

Johansson, H. & Hornemann Møller, I. (red.) (2009) Aktivering. Arbetsmarknadspolitik och socialt arbete i förändring. Malmö: Liber.

Johansson, M. & Bergman, A.-S. (2014) Mirakel inom äldreomsorgen? Idén om en salutogen äldreomsorg och dess omsättning i praktiken. Socialvetenskaplig tidskrift, 21(1): 67–84.

Järvinen, M. & Mik-Meyer, N. (red.) (2003) At skabe en klient. Institutionelle identiteter i socialt arbejde. København: Hans Reitzel.

Keskitalo, E. (2007) Individualizing welfare provision. The integrated approach of the Finnish activation reform. I: B. Hvinden & H. Johansson (red.) Citizenship in Nordic welfare states. Dynamics of choice, duties and participation in a changing Europe, 81–93. London: Routledge.

Lauri, M. (2019) Motivational Interviewing as Governmentality: Shaping Victims of Men's Violence into Responsible Subjects? NORA - Nordic Journal of Feminist and Gender Research, 27(2), 112-124.

Lödemel, I. (1997) The welfare paradox. Income maintenance and personal social services in Norway and Britain, 1946–1966. Oslo: Scandinavian University Press.

Mahoney, J. & Thelen, K. (2010) A theory of gradual institutional change. I: J. Mahoney & K. Thelen (red.) Explaining institutional change. Ambiguity, agency, and power, 1–37. Cambridge: Cambridge University Press.

Miller, W.R. & Rollnick, S. (2012) Motivational interviewing. Helping people change. New York: Guilford press.

Page, K.M. & Tchernitskaia, I. (2014) Use of motivational interviewing to improve return-to-work and work-related outcomes. A review. The Australian Journal of Rehabilitation Counselling, 20(1): 38–49.

Palm, A., Olofsson, N., Danielsson, I., Skalkidou, A., Wennberg, P. & Högberg, U. (2016) Motivational interviewing does not affect risk drinking among young women. A randomised, controlled intervention study in Swedish youth health centres. Scandinavian Journal of Public Health, 44(6): 611–618.

Pollitt, C. & Hupe, P. (2011) Talking about government. Public Management Review, 13(5): 641–658.

Prochaska, J.O. & DiClemente, C.C. (1982) Transtheoretical therapy. Toward a more integrative model of change. Psychotherapy: Theory, Research & Practice, 19(3): 276–288.

Revstedt, P. (1986) Motivationsarbete. Stockholm: Liber.

Rose, N. (1990) Governing the soul. The shaping of the private self. Abingdon: Taylor & Frances.

Rose, N. (1998) Inventing our selves. Psychology, power, and personhood. Cambridge: Cambridge University Press.

Rubak, S., Sandbaek, A., Lauritzen, T. & Christensen, B. (2005) Motivational interviewing. A systematic review and meta-analysis. The British Journal of General Practice, 55(513): 305–312.

Salonen, T. & Ulmestig, R. (2018) Försörjningsstöd mellan individuella brister och samhällsproblem. I: M. Dahlstedt & P. Lalander (red.) Manifest. För ett socialt arbete i tiden. Lund: Studentlitteratur.

SBU (2014a) Motiverande samtal för att förändra mat- eller motionsvanor. SBU kommenterar, 1–4.

SBU (2014b) Motiverande samtal för personer med missbruksproblem. SBU kommenterar, 1–5.

Socialstyrelsen (2019) Nationella riktlinjer för vård och stöd vid missbruk och beroende. Vetenskapligt underlag. Bilaga. Slutversion. Stockholm: Socialstyrelsen.

Stewart, J.S. (2012) A critical appraisal of motivational interviewing within the field of alcohol misuse. Journal of Psychiatric and Mental Health Nursing, (10), 933–938.

Stranz, H., Karlsson, P. & Wiklund, S. (2017) The wide-meshed safety net. Decision-making on social assistance eligibility in Sweden. European Journal of Social Work, 20(5): 711–723.

Ulmestig, R. (2007) På gränsen till fattigvård. En studie om arbetsmarknadspolitik och socialbidrag. Diss. Lund: Lunds universitet.

Wahab, S. (2005) Motivational interviewing and social work practice. Journal of Social Work, 5(1): 45–60.

Watson, J. (2011) Resistance is futile? Exploring the potential of motivational interviewing. Journal of Social Work Practice, 25(4): 465–479.

Åkerstrøm Andersen, N. (2003) Borgerens kontraktliggørelse. København: Hans Reitzel.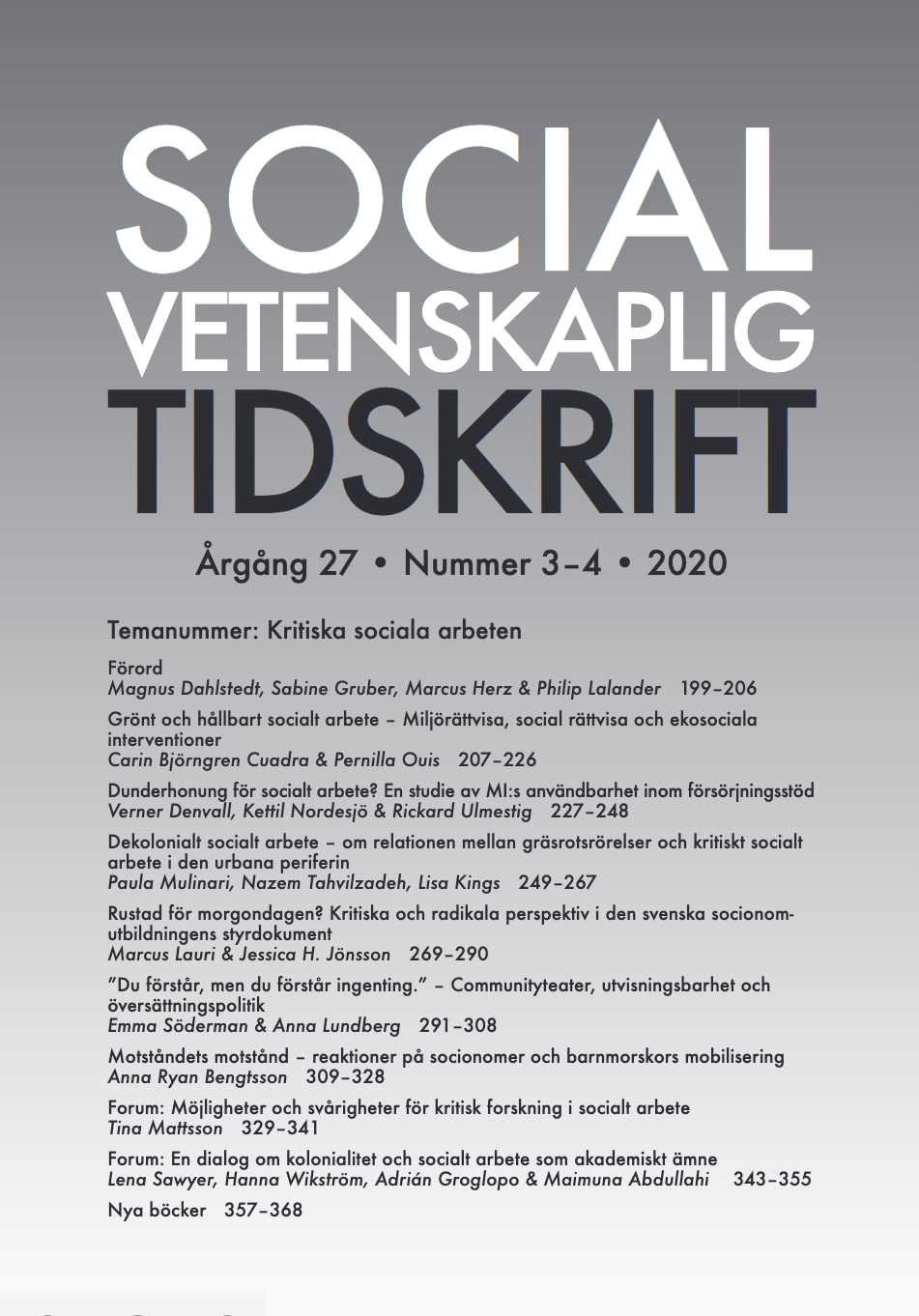 Downloads
Referera så här
Denvall, V., Nordesjö, K. och Ulmestig, R. (2021) "Dunderhonung för socialt arbete? : En studie av MI:s användbarhet inom försörjningsstöd", Socialvetenskaplig tidskrift, 27(3-4), s. 227–248. doi: 10.3384/SVT.2020.27.3-4.3663.