"Du förstår, men du förstår ingenting."
Communityteater, utvisningsbarhet och översättningspolitik
Abstract
In the following article, based on two years of participatory ethnographic fieldwork with the No Border musical, as well as interviews with 16 of the musical's 30 participants, community theatre is investigated in a context of deportability. We analyse the working process in the theatre group, in which actors with and without resident permits participated, through the concept of politics of translation. We show how inequalities due to the constant threat of deportation for several members were brought to the forefront during the work process of creating the musical. It concerned risks of detection for the undocumented participants as well difficult living conditions related to deportability (for example insecure access to livelihood, healthcare, housing etc.). The article conceptualizes various dimensions of working together in a group where participants live in unequal conditions as a politics of translation. This concept includes the work of language translation, and also captures translations of the different experiences mentioned above, and how different positions of power can be handled and understood, within a group with the ambition to work together, in this case on a theatrical performance. Our analysis shows how theatre in a context of asylum rights activism can challenge and create alternatives to the conditions of deportability, while these simultaneously condition the activism and translation. The article contributes to knowledge about mobilization in the context of vulnerability and inequality. We hope to also contribute to a development of critical social work both within and outside academia.
Nedladdningar
Nedladdningsdata är inte tillgängliga än.
Referenser
Anzaldu?a, G. (2012) Borderlands. The new mestiza = la frontera. 4 uppl. 25th anniversary. San Francisco: Aunt Lute Books.

Arendt, H. (1951). The origins of totalitarianism. New York: Harcourt, Brace and Co.

Balibar, É. (2002) Politics and the other scene, 75–86. London: Verso.

Björngren Cuadra, C. & Staaf, A. (2012) Public social services' encounters with irregular migrants in Sweden. Amid values of social work and control of migration. European Journal of Social Work, 17(1): 88–103.

Boal, A. (1979). The theatre of the oppressed. London: Pluto Press.

Dennis, R. (2007) Inclusive democracy. A consideration of playback theatre with refugee and asylum seekers in Australia. Research in Drama Education, 12(3): 355–370.

Djampour, P. (2018). Borders crossing bodies. The stories of eight youth with experience of migrating. Malmö: Malmö universitet.

Fassin, D. & D'Halluin, E. (2005) The truth from the body. Medical certificates as ultimate evidence for asylum seekers. American Anthropologist, 107(4): 597–608.

Hansen, C. (2019) Solidarity in diversity. Activism as pathway of migrant emplacement in Malmö. Avhandling. Malmö: Malmö universitet.

Haraway, D. (1988) Situated knowledges. The science question in feminism and the privilege of partial perspective. Feminist Studies, 14(3): 575–599.

Herz, M. (2012) Kritiskt socialt arbete. Stockholm: Liber AB.

Jeffers, A. (2008) Dirty truth. Personal narrative, victimhood and participatory theatre work with people seeking asylum. Research in Drama Education, 13(2): 217–221.

Jämte, J. (2013) Antirasismens många ansikten. Avhandling. Umeå: Umeå universitet.

Jönsson, J. (2014) Local reactions to global problems. Undocumented immigrants and social work. British Journal of Social Work, 44(1): i35–i52.

Jönsson, J. (2018). Välfärdsstatens försvagning, ökade sociala problem och social mobilisering. I: S. Sjöberg, P. Turunen (red.) Samhällsarbete, aktörer, arenor och perspektiv. Lund: Studentlitteratur.

Kaptani, E. & Yuval-Davis, N. (2008) Participatory theatre as methodology. Identity, performance and social action among refugees. Sociological Research Online, 13(5).

Khosravi, S. (2006) Territorialiserad mänsklighet. Irreguljära immigranter och det nakna livet. I: P. de los Reyes (red.). Välfärdens gränser. Ett villkorat medborgarskap i diskrimineringens skugga. (SOU).

Khosravi, S. (2010) An ethnography of migrant "illegality" in Sweden. Included yet excepted? Journal of International Political Theory, 6(1): 95–116.

Liamputtong, P. (2007) Researching the vulnerable. A guide to sensitive research methods. London, Thousand Oaks, New Delhi: Sage Publications.

Lundberg, A. (2016) Humanita?ra o?verva?ganden i asylprocessen. Balanso?vningar i spa?nningsfa?ltet mellan solidaritet och oja?mlikhet. Socialvetenskaplig tidsskrift, (3–4): 193–218.

Mezzadra, S. & Neilson, B. (2013) Border as method, or, the multiplication of labor. Durham: Duke University Press.

Mohanty, C. (1988) Under Western eyes. Feminist scholarship and colonial discourses. Feminist Review, 30: 61–88.

Nordling, V. (2017) Destabilising citizenship practices? Social work and undocumented migrants in Sweden. Diss. Lund: Lunds universitet.

Sager, M. (2011) Everyday clanidistinity. Experiences on the margins of citizenship and migration policies. Lund: Lunds universitet.

Sakai, N. (2010) Translation and the figure of border. Toward the apprehension of translation as a social action. Profession, 25–34.

Sjöberg, S. & Turunen, P. (red.) (2018) Samhällsarbete. Aktörer, arenor och perspektiv. Lund: Studentlitteratur.

SOU 1999:101 Olydiga medborgare. Tillgänglig via [https://www.riksdagen.se/sv/dokument-lagar/dokument/statens-offentliga-utredningar/sou-1999-101-_GNB3101. Hämtat: 2019-01-13].

Söderman, E. (2019) Resistance through acting. Ambivalent practices of the No border musical. Avhandling. Lund: Lunds universitet.

Tazzioli, M. & Walters, W. (2019) Migration, solidarity and the limits of Europe. Global Discourse, 9(1): 175–190.

Van Erven, E. (2001). Community theatre. Global perspectives [Electronic resource]. London: Routledge.

Wernesjö, U. (2015) Landing in a rural village. Home and belonging from the perspectives of unaccompanied young refugees. Identities, 22(4): 452–467.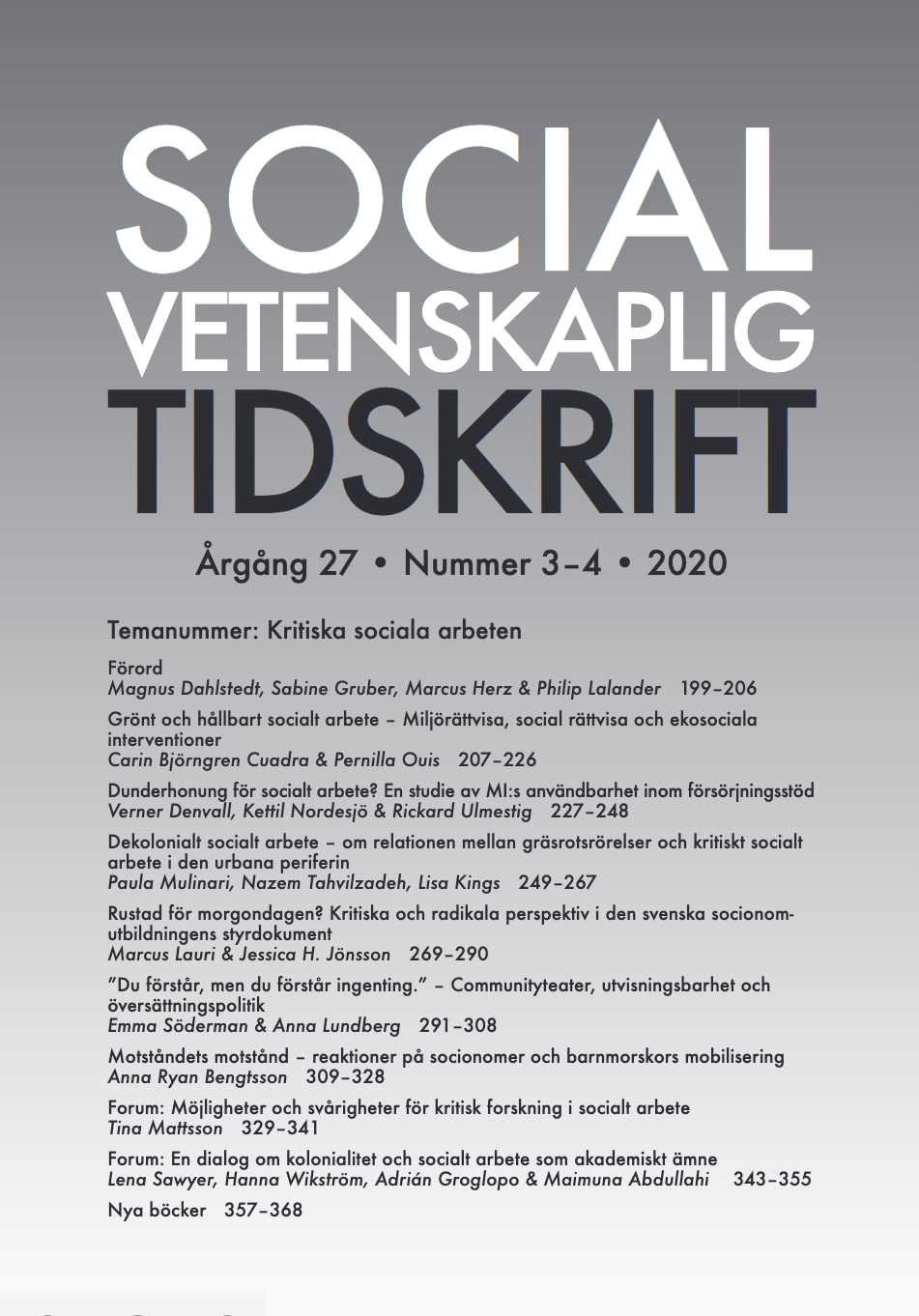 Downloads
Referera så här
Söderman, E. . och Lundberg, A. (2021) "'Du förstår, men du förstår ingenting.': Communityteater, utvisningsbarhet och översättningspolitik", Socialvetenskaplig tidskrift, 27(3-4), s. 291–308. doi: 10.3384/SVT.2020.27.3-4.3666.
Licens
Allt material i Socialvetenskaplig tidskrift publiceras med omedelbar öppen tillgång (open access), under Creative Commons-licensen CC BY-NC-ND 4.0.
Allt innehåll i tidskriften är fritt tillgängligt utan kostnad och får för icke-kommersiella syften fritt läsas, laddas ned, kopieras, delas, skrivas ut och länkas. Innehållet får dock inte ändras. När innehållet används måste författare, källa och licens anges. Upphovsrätten till innehållet tillhör respektive författare.
Författaren kan fritt göra sin publicerade text tillgänglig på institutionella och internetbaserade arkiv, exempelvis sitt lärosätes digitala arkiv eller andra tjänster för detta.
Inga publiceringsavgifter tas ut vid publicering i Sociologisk Forskning.