Motståndets motstånd
– reaktioner på socionomer och barnmorskors mobilisering
Abstract
This article focuses on how gendered power operates in the neoliberal welfare regime and the circumstances created for welfare professionals in Sweden to act politically. Based on interviews with key informants in two cases of collective resistance among midwives and social workers, attention is focused on the practices of power used by politicians and managers. Drawing on resistance theory and concepts developed through previous research on equality, the result shows how fear is created and used and how distance is upheld through different techniques of power, which serve to prevent both collective mobilization and avoid these issues of deteriorated working conditions and care being politicized in terms of inequality
Nedladdningar
Nedladdningsdata är inte tillgängliga än.
Referenser
Ahmed, S. (2012) On being included. Racism and diversity in institutional life. Durham: Duke University Press.

Amundsdotter E., Ericson, M., Jansson, U. & Linghag, S. (2015) Motstånd och strategier i jämställdhetsarbete. Karlstad: Karlstad University Press.

Astvik, W., Welander, J. & Isaksson, K. (2017) Sorti, tystnad och lojalitet bland medarbetare och chefer i socialtjänsten. Arbetsmarknad & Arbetsliv, 23(3): 41–61.

Bache, I. & Flinders, M. (2004) Multi-level governance. Oxford: Oxford University Press.

Barron, K. (2016) Kön och funktionshinder. I: M. Söder & A. Hugemark (red.) Bara funktionshindrad? Om funktionshinder och intersektionalitet. Malmö: Gleerups.

Bauman, Z. (2012) Collateral damage. Social ojämlikhet i en global tidsålder. Göteborg: Daidalos.

Briskin, L. (2012) Resistance, mobilization and militancy. Nurses on strike. Nursing Inquiry, 19(4): 285–296.

Brown, W. (2015) Undoing the demos. Neoliberalism's Stealth Revolution. New York: Zone Books.

Dahle, R. (2012) Social work. A history of gender and class in the profession. Ephemera – Theory and Politics in Organizations, 12(3): 309–326.

Dahlstedt M. & Lalander P. (red.) (2018) Manifest – för ett socialt arbete i tiden. Lund: Studentlitteratur.

Davies, C. (1996) The sociology of professions and the professions of gender. Sociology, 30(4): 661–78.

Dean, M. (1999) Governmentality. Power and rule in modern society. London: Sage.

Della Porta, D. (2014) Methodological practices in social movement research. Oxford: Oxford University Press.

Eriksson-Zetterquist, U. & Renemark, D. (2011) Jämställdhet i organisationer. Hur förändring görs hållbar. Malmö: Liber.

Evetts, J. (2011). A new professionalism? Challenges and opportunities. Current Sociology, 59(4): 406–422.

Foucault, M. (1982) The subject and power. I: J.D. Faubion (red.) Power. New York: The New Press.

Foucault, M. (2002) Sexualitetens historia. Band 1. Viljan att veta. Göteborg: Daidalos.

Foucault, M. (2008) Samhället måste?försvaras. Collège de France 1975–1976. Hägersten: Tankekraft.

Granskär, M., & Höglund-Nielsen, B. (2008) Tillämpad kvalitativ forskning inom hälso- och sjukvård. Lund: Studentlitteratur.

Hall, P. (2012) Managementbyråkrati. Organisationspolitisk makt i svensk offentlig förvaltning. Malmö: Liber.

Haraway, D. (1988) Situated knowledges. The science question in feminism and the privilege of partial perspective. Feminist Studies, 14(3): 575–599.

Hedin, U.-C., Månsson, S.-A. & Tikkanen, R. (2008) När man måste säga ifrån. Om kritik och whistleblowing i offentliga organisationer. Stockholm: Natur & Kultur Akademisk.

Johansson, S. (2012) Who runs the mill? The distribution of power in Swedish social service agencies. European Journal of Social Work, 15(5): 679–695.

Jönsson, J.H. (2018) Välfärdsstatens försvagning, ökade sociala problem och social mobilisering. I: P. Turunen & S. Sjöberg (red.) Samhällsarbete. Aktörer, arenor och perspektiv. Lund: Studentlitteratur.

Larner, W. (2000) Neo-liberalism. Policy, ideology, governmentality. Studies in Political Economy, 63(1): 5–25.

Lauri, M. (2016). Narratives of governing. Rationalization, responsibility and resistance in social work. Diss. Umeå University, Department of political science & Umeå Centre for Gender Studies. [https://www.diva-portal.org/smash/record.jsf?pid=diva2%3A923799&dswid=-3844].

Lilja, M. & Vinthagen, S. (2014) Sovereign power, disciplinary power and biopower. Resisting what power with what resistance. Journal of Political Power, 7(1): 107–26.

Lombardo, E. & Mergaert, L. (2013) Gender mainstreaming and resistance to gender training. A framework for studying implementation. NORA – Nordic Journal of Feminist and Gender Research, 21(4): 296–311.

Lundstedt, A. (2005) Vit governmentalitet. "Invandrarkvinnor" och textilhantverk. En diskursanalys. Diss. Arbetsliv i omvandling 2005:14. Göteborgs universitet, Etnologiska institutionen.. Stockholm: Arbetslivsinstitutet. [https://journals.lub.lu.se/aio/issue/view/2393/304].

Newman, J. (2017) Re-gendering governance in times of austerity. Dilemmas of feminist research, theory and politics. I: C. Hudson, M. Rönnblom & K Teghtsoonian (red.) Gender, governance and feminist analysis. Missing in Action? Oxon: Routledge.

Nilsson, R. (2008) Foucault – en introduktion. Malmö: Égalité.

Nordling, V. (2017) Destabilising citizenship practices? Social work and undocumented migrants in Sweden. Diss. Dissertations in Social Work 51. Lunds universitet. [https://portal.research.lu.se/ws/files/31006289/Destabilising_Citizenship_Practices.pdf].

Olivius, E. & Rönnblom, M. (2017) Feminism i företagsform? Konsultbranschen som en arena för jämställdhetsarbete. Tidskrift for kjønnsforskning, 41(1): 73–94.

Pincus, I. (1997) Ma?n som hindrar och ma?n som fra?mjar. I: A.G. Jónasdóttir (red.) Styrsystem och jämställdhet. Institutioner i förändring och könsmaktens framtid. SOU 1997:114. Stockholm: Arbetsmarknadsdepartementet.

Ryan Bengtsson, A. (2018) Collective mobilization among welfare professionals in Sweden. The politicisation of caring. I: F. Sowa, R. Staples & S. Zapfel (red.) The transformation of work in welfare organizations. New Public Management and the institutional diffusion of ideas. Oxon: Routledge.

Scaramuzzino, G. & Meeuwisse, A. (2019) Socialarbetares protester genom nätverk på sociala medier. Socionomens forskningssupplement, 45(1): 4–17.

Selberg, R. (2013). Nursing in times of neoliberal change. An ethnographic study of nurses' experiences of work intensification. Nordic Journal of Working Life Studies, 3(2): 9–35.

Socialdepartementet (2015) Godkännande av en överenskommelse om en förbättrad förlossningsvård och insatser för kvinnors hälsa. Stockholm: Socialdepartementet. [https://www.regeringen.se/4ae55d/contentassets/29d6bf47c7b94b1282bfbc20303c3d9f/overenskommelse-om-en-forbattrad-forlossningsvard-och-insatser-for-kvinnors-halsa.pdf].

Svensson, L.G. (2010) Professions, organizations, collegiality and accountability. I: L.G. Svensson & J. Evetts. (red.) Sociology of professions. Continental and Anglo-Saxon traditions. Göteborg: Daidalos.

Vetenskapsrådet (2017) God forskningssed. Stockholm: Vetenskapsrådet [https://www.vr.se/download/18.2412c5311624176023d25b05/1555332112063/God-forskningssed_VR_2017.pdf].

Widerberg, K. (2002) Kvalitativ forskning i praktiken. Lund: Studentlitteratur.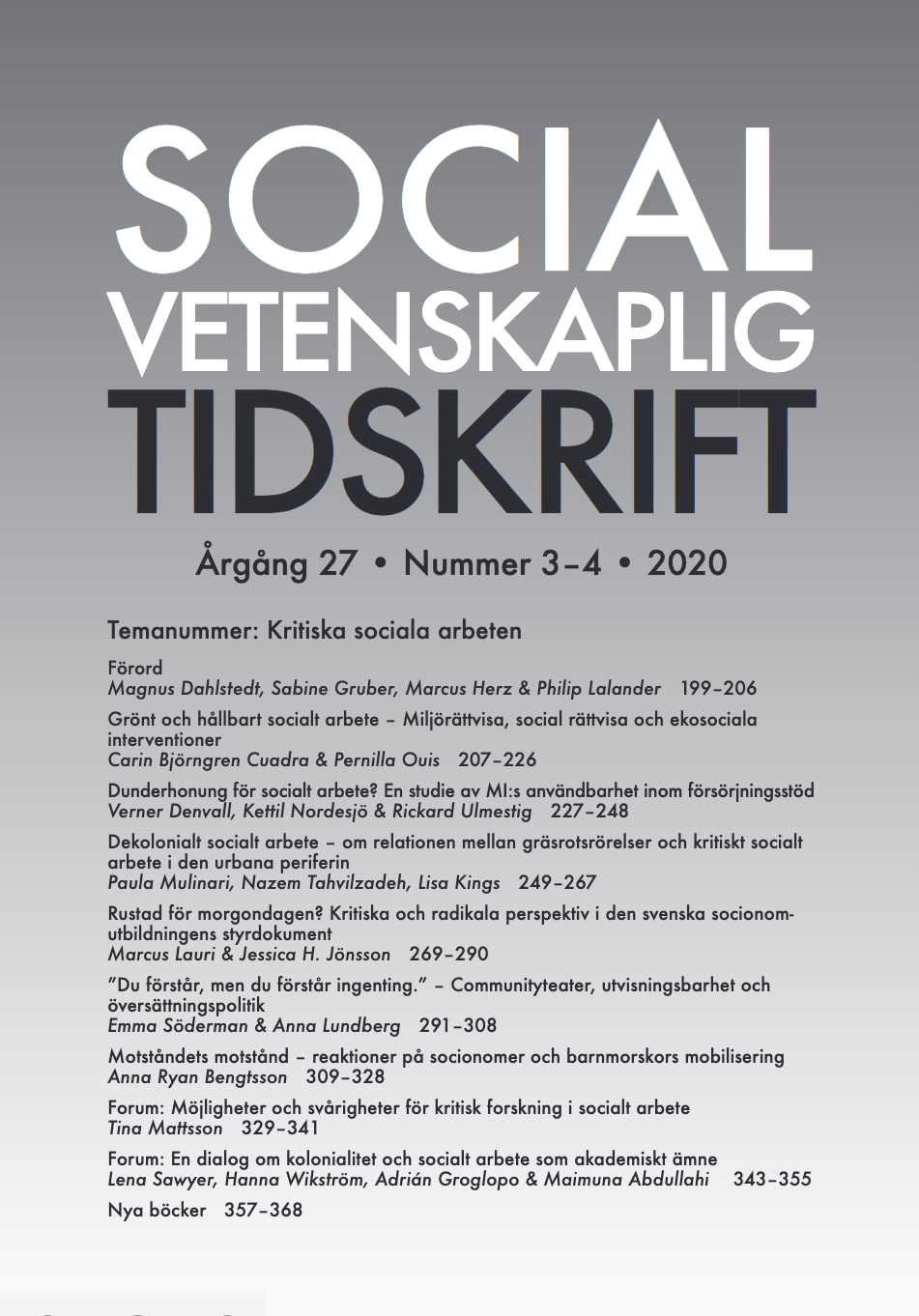 Downloads
Referera så här
Ryan Bengtsson, A. (2021) "Motståndets motstånd: – reaktioner på socionomer och barnmorskors mobilisering", Socialvetenskaplig tidskrift, 27(3-4), s. 309–328. doi: 10.3384/SVT.2020.27.3-4.3667.