Välfärden, samhällskritiken och medierna
– socialarbetares röster i podcaster i socialpolitik och socialt arbete
Abstract
Welfare, critique and the media – social workers' voices in podcasts in social policy and social work
Social workers and social policy researchers can engage in social work and critical social policy, in traditional media and in the new media. In recent years, the social media have been increasing in both the international media systems and in the media system in Sweden. One channel for social workers to use to be able to make their voice heard in society is to participate, debate and discuss social policy in podcasts. In 2016, the Union for Professionals, Akademikerförbundet SSR, developed "Social Services Podcasts". At the same time the National Board of Health and Welfare introduce a new podcast on social services and health care that is called "Podcast in the Deep". This article examines voices and themes in social policy and social work in a total of 112 programmes in two podcasts: "Socialtjänstpodden" and "In Depth" during the years 2016–2019. There are several challenges for the storytelling tradition and social criticism in social policy and social work in podcasts, which is highlighted in this article.
Nedladdningar
Nedladdningsdata är inte tillgängliga än.
Referenser
Akademikerförbundet SSR. (2019) Socialtjänstpodden. [https://akademssr.se/opinion/vara-podcasts/socialtjanstpodden Hämtat: 2019-05-06].
Asp, K. (1986) Mäktiga massmedier. Studier i politisk opinionsbildning. Stockholm: Akademilitteratur.
Baum, M.A. & Potter, P.B.K. (2019) Media, public opinion, and foreign policy in the age of social media. The Journal of Politics, 81(2): 747–756. DOI: https://doi.org/10.1086/702233
Blomberg, H. (red.) (2004) Sociala problem och socialpolitik i massmedier. Lund: Studentlitteratur.
Carlsson, U. & Weibull, L. (2017) Yttrandefriheten i dagens mediekultur. En studie av medborgarnas uppfattning om yttrandefrihetens gränser. Nordicom. SOM-institutet. Göteborg: Göteborgs universitet.
Cartney, P. (2013) Podcasting in an age of austerity. A way of both enhancing student learning and reducing staffing costs? British Journal of Social Work, 43(3): 446–466.
Elgemyr, G. (2005) Får jag be om en kommentar? Yttrandefriheten i svensk radio 1925–1960. Nr 20 i en serie skrifter utgivna av Stiftelsen Etermedierna i Sverige. Stockholm: Prisma.
Enbom, J., Sjöström, S. & Öhman, A. (2014) Institutionella villkor för mediehantering. En jämförande kartläggning mellan socialtjänst, skola och polis. Socialvetenskaplig tidskrift, 21(2): 105–126.
Fjellman, E., Gustafsson N. & Rosén Sundström, M. (2018) Ungas politiska (icke-)deltagande på sociala medier. Hellre offline? Sociologisk Forskning, 55(2–3): 293–316.
Fransson, S. (2013) Yttrandefrihet och whistleblowing. Om gränserna för anställdas kritikrätt. Stockholm: Premiss.
Fronek, P., Boddy, J., Chenoweth, L. & Clark, J. (2016) A report on the use of open access podcasting in the promotion of social work. Australian Social Work, 69(1): 105–114. DOI: https://doi.org/10.1080/0312407X.2014.991338
Gnaur, D. & Huttel, H. (2016) Podcasting for teaching and learning in higher education. 1 uppl. Aalborg University. Aalborg: Aalborg Universitetsforlag. Higher Education Practices Series, No. 2.
Golding, P. & Middleton, S. (1982) Images of welfare. Press and public attitudes to poverty. Oxford: Robertson.
Goldkind, L., Wolf, L. & Freddolino, P.P. (2018) Digital social work. Tools for practice with individuals, organizations, and communities. New York: Oxford University Press.
Jenkins, H., Ford, S. & Green, J. (2014) Spridbar media. Att skapa värde och mening i en nätverkad kultur. Göteborg: Daidalos.
Keir, A., Bamat, N., Patel, R.M, Elkhateeb, O. & Roland, D. (2018) Utilising social media to educate and inform healthcare professionals, policy-makers and the broader community in evidence-based healthcare. BMJ – Evidence-Based Medicine, 1–3.
Krippendorff, K. (2019) Content analysis.: An introduction to its methodology. Fourth edition. Los Angeles: SAGE.
Lie Paulsen, M. (2018) Local newspapers, facebook and local civic engagement. A study of media use in two Norwegian communities. Nordicom Review, 39(2): 49–62.
Lundälv, J. (2013) Pennfäktaren. Socialt arbete och opinionsbildning. 1 uppl. Gävle: Meyers förlag.
Lundälv, J. (2015) Blogga tryggt. Nya medier i tjänsten. 1 uppl. Lund: Studentlitteratur.
Lundälv, J. (2018) Debattlustans röster. Samhällskritik i socialpolitik och socialt arbete. 1 uppl. Stockholm: Premiss förlag.
Lundälv, J. (2019) The challenges of writing opinion pieces in social work. A national online survey of Swedish social workers' experiences of influencing public opinion. British Journal of Social Work, 49(6): 1395–1414.
Lundälv, J. & Lindqvist, R. (2013) Aktivering och anställningsbarhet eller modernt arbetstvång? En analys av fas 3 i svensk dagspress. Arbetsmarknad & Arbetsliv, 19(3): 9–23.
Lundälv, J. & Moberg, U-C. (2006) Mediehandbok för socialarbetare. Gävle: Meyers förlag.
McCombs, M. & Shaw, D. (1972) The agenda-setting function of mass media. Public Opinion Quarterly, 36(2): 176. DOI: https://doi.org/10.1086/267990
Nordicom. (2017) Radiolyssnandet i Norden 2016. Nordicom – Nordisk Informationscenter för Medie- och Kommunikationsforskning. Göteborg: Göteborgs universitet.
Nyman, M. & Senneryd, K. (2015) Podcast i undervisningen skapar motiverade elever. Ett inkluderande arbetssätt där elever lär av varandra vid inspelandet av strukturerade samtal. Skolportens numrerade artikelserie för utvecklingsarbete i skolan. 10/2015. Ifous, Skolporten.
Oakley, A., Popay, J. & Williams, F. (1999) Welfare research. A critical review. London: UCL Press.
Plantin, J.-C. & Punathambekar, A. (2018) Digital media infrastructures. Pipes, platforms, and politics. LSE Research Online. Journal of Media, Culture & Society, 41(2): 163–174.
Polanyi, M. (2013) Den tysta dimensionen. Göteborg: Bokförlaget Daidalos AB. Robbins, S.P. & Singer, J.B. (2014) From the editor. The medium is the message. Integrating social media and social work education. Journal of Social Work Education, 50(3): 387–390.
Scaramuzzino, G. & Meeuwisse, A. (2019) Socialarbetares protester genom nätverk på sociala medier. Socionomens forskningssupplement, 45(1): 4–17.
Sjöström, S. & Öhman, A. (2018) What if an investigative journalist calls? Media relations in social work. British Journal of Social Work, 48(7): 2077–2095. DOI: https://doi.org/10.1093/bjsw/bcx148
Socialstyrelsen. (2019) På djupet – En podd från Socialstyrelsen. [https://www.socialstyrelsen.se/padjupet-podd/Files/index.html Hämtat: 2019-05-06].
Strömbäck, J. (2009) Makt, medier och samhälle. En introduktion till politisk kommunikation. 1 uppl. Stockholm: SNS förlag.
Swärd, H. (red). (2017) Den kantstötta välfärden. 1 uppl. Lund: Studentlitteratur.
Swärd, H. (red). (2018) Bedöma och åtgärda fattigdom. Om välfärdens skiljelinjer och samhällets yttersta skyddsnät. 1 uppl. Lund: Studentlitteratur.
Swärd, H. & Edebalk, P.G. (red). (2017) Socialt arbete och socialpolitik. Om Centralförbundet för socialt arbete och dess betydelse. 1 uppl. Lund: Studentlitteratur.
Thompson, J.B. (2001) Medierna och moderniteten. Göteborg: Bokförlaget Daidalos AB.
Tiitinen, L. (2019) Kamppailu. Sananvapaudesta. Sosiaalialan ammattilaisen tominta ja valtasuhteet mediavaikuttmisen kentällä (Struggle for free speech. Engagement in media advocacy and the associated power relations as experienced by social work professionals). Väitöskirja. Acta Electronica Universitatis Lapponiensis 259. Rovaniemi: Lapin Yliopisto, University of Lapland.
Weibull, L. & Wadbring, I. (2014) Massmedier. Nya villkor för press, tv och radio i det digitala medielandskapet. 11 helt omarb. uppl. Stockholm: Ekerlid.
Vetenskapsrådet. (2017) God forskningssed. Stockholm: Vetenskapsrådet.
Williams, D.L, Crittenden, V.L, Keo, T. & McCarty, P. (2012) The use of social media. An exploratory study of usage among digital natives. Journal of Public Affairs, 12(2): 127–136.
Williams, F. (1989) Social policy. A critical introduction. Issues of race, gender and class. Cambridge: Polity Press.
Williams, F. (1999) Good-enough principles for welfare. Journal of Social Policy, 28(4): 667–687. DOI: https://doi.org/10.1017/S0047279499005760
Williams, F. (2016) Critical thinking in social policy. The challenges of past, present and future. Social Policy & Administration, 50(6): 628–647. DOI: https://doi.org/10.1111/spol.12253
Williams, F. (2018) What next for social policy? Podcast, University of Oxford. November 9. [https://podcasts.ox.ac.uk/what-next-social-policy Hämtat: 2018-11-09]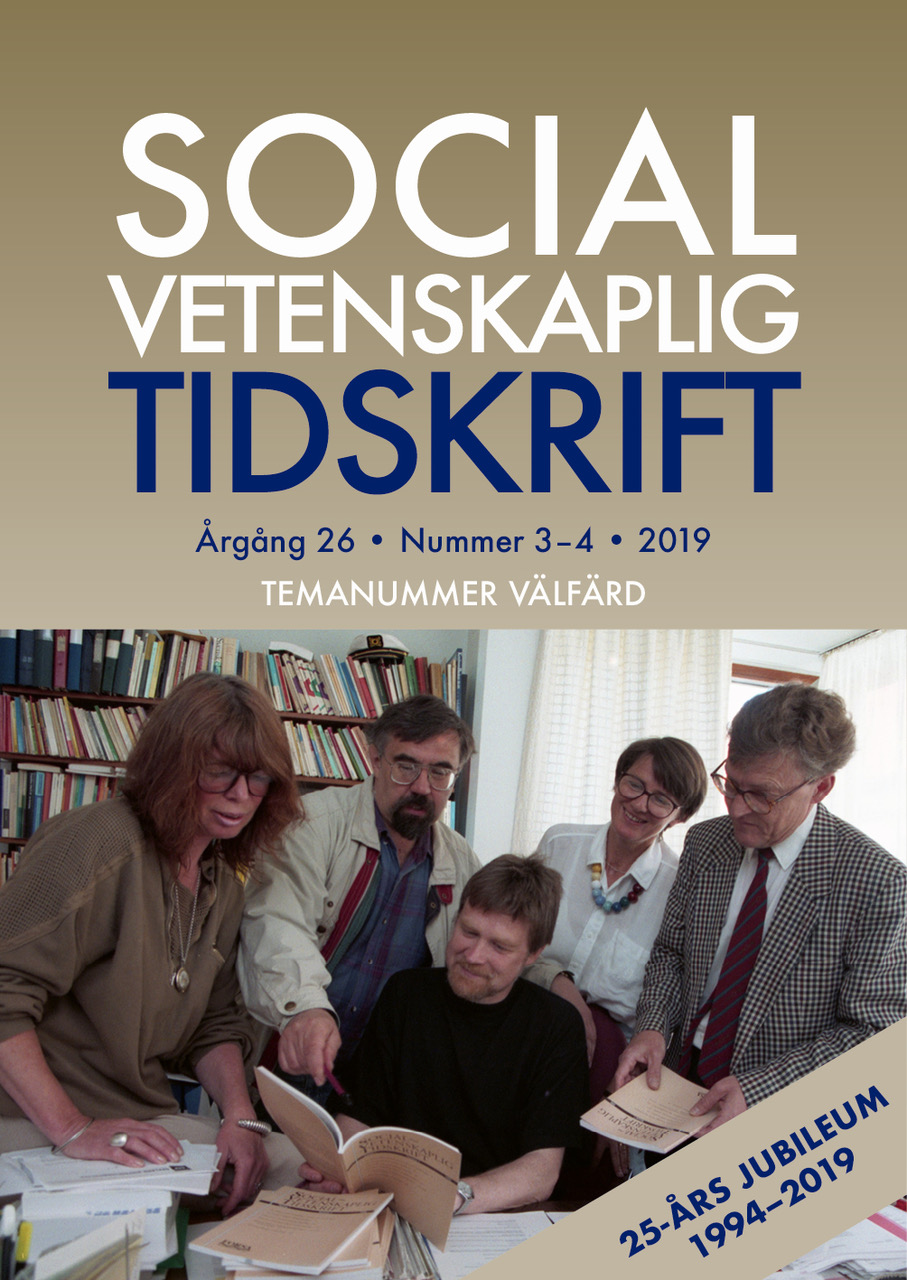 Downloads
Referera så här
Jörgen, L. (2020) "Välfärden, samhällskritiken och medierna: – socialarbetares röster i podcaster i socialpolitik och socialt arbete", Socialvetenskaplig tidskrift, 26(3-4), s. 363–382. doi: 10.3384/SVT.2019.26.3-4.3095.