Det dubbla utanförskapet
HVB-placerade ungas tankar kring fenomenet mobbning
Abstract
A twofold exclusion – interviews about bullying with young people in residential care
Youth in residential care are at risk of living in twofold exclusion when stigmatization and bullying in school become part of their everyday life. The article presents results from semi-structured interviews with ten young people in residential care. The young people's reflections on bullying are analysed in relation to different explanatory models of bullying. Experiences of bullying are very common among youth placed in out of home care, which calls for research on bullying and youth in residential care. The aim of the study was to present understandings of bullying among youth placed in residential care and to investigate why youth in residential care report victimization to a higher degree than young people living at home. The research questions were: 1. What descriptions do young people give of the term bullying? 2. What insights can the young people's descriptions of bullying give to the high victimization among youth in residential care? 3. How can the young people's descriptions of bullying be understood in relation to different understandings of bullying? The main findings are the young people's sense of exclusion. They feel stigmatized due to their placement in care and believe they have to be secretive in school about being placed in care because of the risk of bullying. Three suggestions to decrease the twofold exclusion are presented. 1. Based on knowledge that frequent changes in groups are a risk factor in regard to bullying, placement changes need to be reduced to a minimum. 2. Schools (teachers and pupils) need education concerning care environments. 3. Young people are often placed in care due to behavioural problems and therefore residential units need advantageous conditions to work with the young people's behaviour on both individual and group level.
Nedladdningar
Nedladdningsdata är inte tillgängliga än.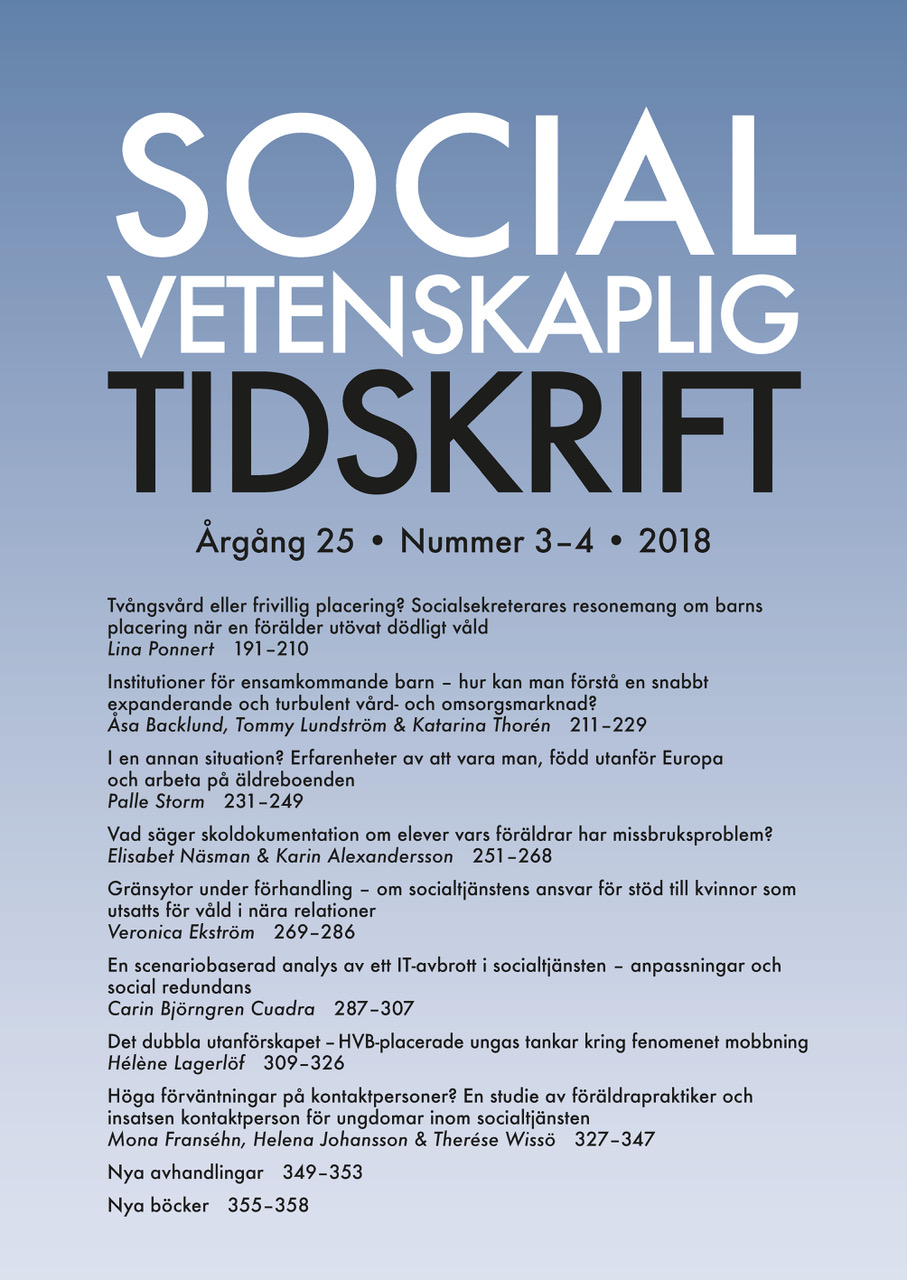 Downloads
Referera så här
Lagerlöf, H. (2019) "Det dubbla utanförskapet: HVB-placerade ungas tankar kring fenomenet mobbning", Socialvetenskaplig tidskrift, 25(3-4), s. 309–326. doi: 10.3384/SVT.2018.25.3-4.2369.